Do you like running, but also walking your local trails or climbing a hill?
Are you bored with "pounding the pavement" on your morning or afternoon run?
Do you want to avoid hip, knee or achilles pain from your previous running efforts?
If so, trail running could be for you!  Before you don your runners and hit your local trails, though, read our five trail tips to ensure the experience is a good one:
The right tool for the job: Trail running means your feet and ankles are constantly adjusting to the varying terrain.  This is quite different to running in a straight on hard surfeces  (bike path, footpath or road) and you may have noticed that trail runners look different!  Where a "normal" running shoe only really needs to deal with forward and backward forces, a trail runner undergoes a lot of lateral and twisting forces.  Trail running shoes are therefore sturdier and heavier but you will appreciate the difference when the trail gets rough!
Don't compare apples with oranges on pace: Even if you are running fairly level trails (alongside a river, around the base of a hill) your pace will likely be slower compared to road running.  All those little extra movements you make when trail running have an effect on your pace, so don't compare apples with oranges and beat yourself up about your pace on strava after a trail run.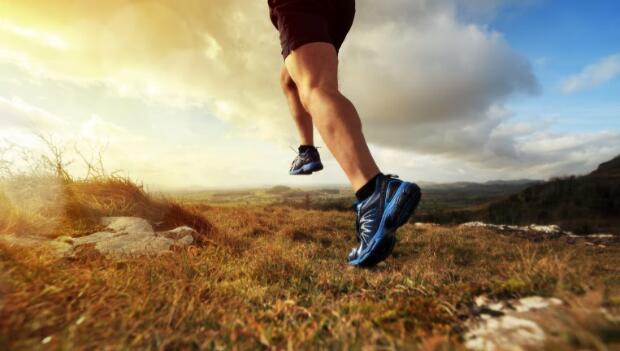 3. Watch your temperature:  Depending on where your local trails are, you may find you feel hotter after a trail run compared to a road run.  Once you start running uphill you're moving slower and there's less airflow moving past you to cool down.  Combine that with the fact that many hilltops have few trees and you may find yourself over-heating a little.  If you're feeling hotter than usual after a trail run, make sure you re-hydrate over the next 2-3 hours – aim to consume at least one litre of water in that period, even if you don't really feel like it.
4. Mind your step:  Running down a rocky slope is tricky business!  Where you might be able to gain speed on the downhills on the road or bike path, you may have to slow down on the trails to make sure you get your footing right and don't end up with a sprained ankle.  Trust that you will still be getting a workout and think of the benefits in terms of strengthening up your ankles!
5. Feel better the next day: One of the advantages of trail running is that it reduces some of the excessive repetitive forces of road running that can lead to injuries like shin splints, knee pain and achilles tendon pain.  The variability in surface and therefore muscle activity means you are sharing the load among more muscles and so any single muscle or area is not being stressed as much.   This often means you have less soreness the day after a trail run, which may be one of the factors that keeps you coming back, along with the great views, finding some solitude and generally feeling like you've been on an adventure!